What Are The Main Reasons Teachers Call It Quits?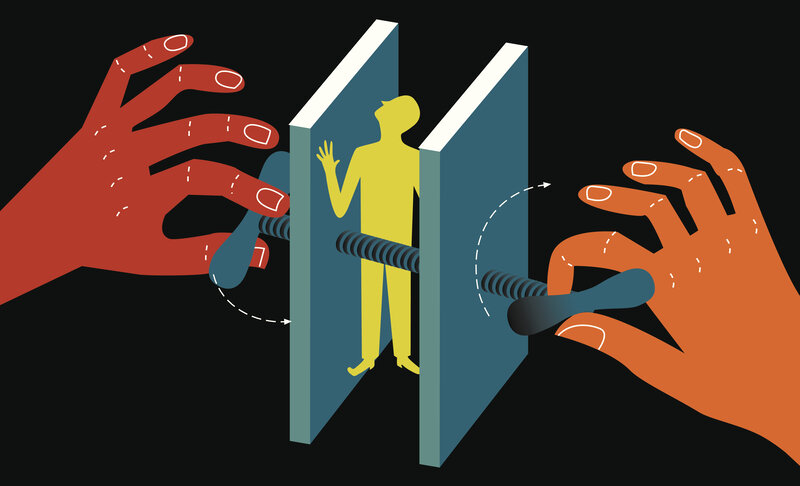 Andy Baker/Getty Images/Ikon Images
For Ross Roberts, it was a lack of resources that drove him from the classroom. For Danielle Painton, it was too much emphasis on testing. For Sergio Gonzalez, it was a nasty political environment.
Welcome to the U.S. teaching force, where the "I'm outta here" rate is an estimated 8 percent a year — twice that of high-performing countries like Finland or Singapore. And that 8 percent is a lot higher than other professions.
The teaching force is "a leaky bucket, losing hundreds of thousands of teachers each year — the majority of them before retirement age," says a recent report from the Learning Policy Institute.
Why are so many teachers leaving?
There are, of course, many reasons both personal and professional.
Let's start with money. While teachers don't get into the profession for the dough, money is a factor. Beginning teachers make about 20 percent less than college graduates in other fields.
But overall, teachers and researchers say, educators want a bigger voice in school policies and plans. Many feel left out of key discussions.
"Working conditions are even more important for keeping people in once they've made the choice to teach," says Linda Darling-Hammond, the president of the Learning Policy Institute.
Another key factor is preparation.
"Teachers who are well prepared leave at more than two times lower rates than teachers who are not fully prepared," Darling-Hammond says.
So what can we learn from teachers who've left? We asked four of them to give us their reasons:
Robert Lutjens 39, is a former middle school science teacher in Sugar Land, Texas, near Houston.
"It sounds a little bit dramatic, but part of it was I was not allowed to fail students," he says. "There was a phrase that kept going around that I heard from administrators: 'We need to make sure they succeed, we need to guarantee their success.' Which was code for: 'They need to pass.' "
Lutjens says he just couldn't support passing students if they weren't learning the material. In addition, he says, the paperwork that came with the job was ludicrous, burdensome and plentiful: "I felt that I had a lot of not very effective hoops to jump through."
What would have helped him stay?
"There's not a simple solution," he says. "I would like to see more of an emphasis on — rather than passing — to have an emphasis on actually learning. The culture of the campus would have had to have a vast overhaul."
Lutjens now works as a pastor at St. John's Lutheran Church in Wharton, Texas.
Danielle Painton, 34, is a former elementary school teacher from Pennsylvania.
When she landed a full-time teaching job right out of college, Painton counted herself lucky. But after a decade at a public elementary school near Lancaster, she called it quits.
Education has become test-and-data obsessed, she says: "The schools are being run a little bit more like on a business model of constantly collecting data and then (that's) driving all of our decisions."
It's a shift, she says, that eroded emphasis on the craft of teaching and seeing students as individuals.
"I can't see that kid who walks through my door — who didn't have breakfast or whose parents just got divorced — and think that his number on his latest test is the most important thing about that child on that day," she told us.
Painton remembers a fourth-grade girl who, in the middle of a weeklong bout of testing, put her head down on her desk.
"I said, 'Are you OK?' " Painton recalls. "And she said, 'Mrs. Painton, this just isn't fun anymore.' "
That stuck.
"It was haunting me," she says. "I just kept hearing: This isn't fun anymore, this isn't fun anymore. And these are kids."
Ross Roberts, 33, is a former high school special education teacher in eastern Tennessee.
"Get this," Roberts says. "I was teaching a reading class and I had no books to read!"
Roberts spent three years teaching special education in Jonesborough, Tenn., before he decided to leave and become a financial adviser.
"If things were different in education, honestly, I would still be there," he says from his office at Northwestern Mutual in Knoxville.
A combination of factors led to his departure, but one of the primary reasons, he says, was the frustration of not having essential resources. He says he regularly had to rely on the Internet for reading material. He eventually worked up some grant money and donations to get books for his class.
Roberts says it was stressful and annoying that teachers were often expected to pay for major supplies out of their own pockets — on a salary that doesn't allow much wiggle room.
"I didn't feel I had that capacity," he says, "and there's a bit of guilt that comes along with that."
Administration and leadership also make "a huge difference," Roberts notes. After he left, he says, a new director stepped into his former district who was focused on making sure that technology and materials got into classrooms.
"It really all boils down to the level of support that you get," he says. "To have that support coming from the top, it just makes your job easier."
Sergio Gonzalez, 29, is a former dual-language middle school teacher in Wisconsin.
Gonzalez taught in Madison's first dual-language program — meaning that he taught science and language arts in both Spanish and English to students in grades 6-8.
"It was draining but extremely rewarding," he remembers.
He'd always wanted to be a teacher. He hadn't even considered another career, he says, until Gov. Scott Walker proposed Act 10 in 2011, a controversial budget measure that was widely perceived as an attack on the power of teachers unions.
The act — and the massive demonstrations by teachers that followed — created a toxic political climate and left many educators feeling alienated.
"The environment for public education in Wisconsin was changing," Gonzalez says.
While most parents were supportive, he says, there was definitely pushback. He remembers that on the day he returned to school, one parent gave him the middle finger as she drove away.
"I knew that if I stuck around I was going to get bitter, and I was not going to be a good teacher," he says. "But I can't emphasize enough how, ever since I was a kid, my goal was to be a public school teacher. And that opportunity seemed to be taken away from me."
Mayra Linares contributed to this report.
'Restoring School Funding Should Be an Urgent Priority,' Report Says
A new report from the Center on Budget and Policy Priorities has used data from both state budget documents and the U.S. Census Bureau as well as enrollment figures from the National Center for Education Statistics to analyze public investment in K-12 schools.
The report found that over the past decade, at least 23 states are providing less funding support for elementary and secondary schools than when the Great Recession took hold in 2008.
Even more cause for concern is that out of these 23 states, eight states "have cut general funding per student by about 10 percent or more over this period" and five of these states "enacted income tax rate cuts costing tens or hundreds of millions of dollars each year rather than restore education funding."
In other words, several states are significantly underfunding their K-12 systems, therefore jeopardizing the overall quality of school districts and education reforms that are proven to boost student achievement.
The report notes that while school funding understandably fell during the economic hard times caused by the Great Recession, in many states funding still continues to fall despite improving financial conditions.
"States made widespread and deep cuts to education formula funding when the recession hit, and close to half of the states still haven't fully restored the cuts nearly nine years later," the report says.
The report speculates that education cuts have been a continuing trend over the past decade because:
State revenues have been slow to recover
States rely too heavily on spending cuts as opposed to a balance of cuts and revenue increases
Federal aid to states has been steadily declining
Costs are rising due to a growing student population
States are making deep tax cuts in both general school funding and income tax
Further, the report notes that forty states have made cuts to capital spending, which is used to both renovate and build schools. As a result, many states are being hindered from planning new development due to an unprecedented lack of funding.
Specifically, the report argues that funding cuts endanger states' respective abilities to improve teacher quality, trim class sizes, expand learning opportunities, and provide high-quality early education.
On a general note, the report says that continued funding cuts have the potential to ultimately weaken the future workforce and therefore "undermine a crucial building block for future prosperity."
Nicole Gorman, Senior Education World Contributor
10/24/2016
Number of home-schooled students has doubled since 1999, new data shows
Approximately 1.8 million U.S. children were home-schooled in 2012, more than double the number that were home-schooled in 1999, when the federal government began gathering data on national home-schooling trends, according to estimates released Tuesday. The estimated number of home-schooled children represents 3.4 percent of the U.S. student population between the ages of 5 and 17.
The increase was fastest between 1999 and 2007, then slowed between 2007 and 2012, according to the estimates from the National Center for Education Statistics.
The figures show that most home-schoolers were white and living above the poverty line in 2012. An estimated 4 in 10 home-schoolers had parents who graduated from college, while about 1 in 10 had parents whose formal education ended before they graduated from high school.
About one-third live in rural areas, while slightly more than one-third live in the suburbs and slightly less than one-third live in cities.
Researchers conducted the home-schooling survey of a nationally representative sample of students via telephone from 1999 to 2007. In 2012, they instead asked questions via mail, introducing some methodological changes that make it more difficult to compare results over time.
It's particularly difficult to tell whether parents' reasons for home-schooling have changed. In 2007, for example, 36 percent of parents said that providing "religious or moral instruction" was the most important reason for home-schooling. It was the top-ranked "most important" reason for home-schooling that year.
In 2012, that share appeared to fall: Seventeen percent named religious instruction as most important and 5 percent said moral instruction was most important. But the question was asked differently, with religious and moral instruction as two separate reasons instead of one combined reason, and so it was not immediately clear whether the numbers represented a real change in parents' motivations.
The share of parents who said their most important reason was concern about the environment at other schools, such as safety, drugs and peer pressure, rose from 21 percent in 2007 to 25 percent in 2012. But that change was not statistically significant.
More top high schools drop out of class-rank system
For the West Chester Area School District, the last straw for class rank came when a University of Pennsylvania admissions officer told school officials that a highly qualified graduate had been rejected because she was ranked 15th out of 320 students.
"They said, 'If you didn't rank her, she would have gotten in,' " Superintendent James Scanlon said of the student, who had earned a 3.9 grade-point average in the high-achieving Chester County district.
Now West Chester may be joining a growing number of districts around the country in eliminating class rank in its high schools – a high-stakes strategy that educators hold could help some of their students get into the nation's elite colleges, since those schools often overlook candidates who aren't in the rarefied percentiles.
The movement has gained such popularity in New Jersey during the last 10 years, said Albert Betts, admissions director at Rowan University, that "we no longer use or even record class rank as part of our admission evaluation process."
Educators who favor dropping the system argue that in the best districts, where the students are highly competitive, the differences in grade-point average between the No. 1 and No. 20 or 25 students can be minuscule. Yet colleges might look unfavorably on that lower-ranked student.
A No. 25 in West Chester might be a No. 5 or 6 in another district, said Scanlon, whose school board will vote next month to eliminate ranking and adjust weighting systems – that can push GPAs well above 4.0 – to account for the more challenging courses, effective with next year's freshman class.
The district even heard from a Penn State admissions officer who said the ranking system "more often than not . . . hurts your students rather than helps them," said Rick Swalm, the school board president.
Once he explained what was at stake, Scanlon said, students and parents were on board almost unanimously.
"Some colleges only want to see kids in the top 5 percent," said Cole Boquist, 18, a Henderson High School senior who currently is 18th in his class, in the vicinity of the magical top 5 percent. He said he agrees that rank should go.
But it was a different story in the well-regarded Unionville-Chadds Ford School District, which took heat from top-performing students and their parents when it eliminated its decile ranking system – in which seniors are grouped in the 10th, 20th, 30th, etc., percentiles, – starting this year. Critics said students were told as freshmen to work hard and aim for the top decile, which is based on three years of grades.
"They believed they would get this recognition if they succeeded, and to pull the rug out from under them is unfair," said Timotha Trigg, a mother of a senior, who spoke out at several heated school board meetings.
The districts are among at least 13 in the Pennsylvania counties neighboring Philadelphia that are either doing away with rank entirely; keeping it under wraps for a few select colleges, such as military academies that require it; or changing the system to show how students compare with others in their class without assigning numbers.
The National Association of College Admissions Officers says the trend started at least two decades ago with private schools and eventually spread to public schools.
College admissions officers said they have seen a large drop-off in applicants from schools with class rank in recent years. At Penn, only 33 to 36 percent of students applying come with a rank on their transcripts. At Swarthmore College, it is fewer than half.
Jim Bock, Swarthmore dean of admissions, said ranking has value in that it helps schools to have some way of comparing students with their peers, whether it's a single number or a percentile or a chart.
"We're trying to build context," he said. "We want to know where does this student fall within your institution."
Some schools try to outfox colleges. Bock recalled one school that gave everyone in the class who scored above a 4.0 a No. 1 – all 83 of them.
"It's the Lake Wobegon effect, where everyone is above average. If you're getting rid of rank and pushing everyone to the top, it doesn't serve the student well, or us well," he said.
Eric Furda, dean of admissions at Penn, said that though more schools are dropping rank, they are providing some measure of a student's standing in class, such as a bar graph that shows a distribution of student scores. Without that information, the university has to rely more heavily on test scores.
For colleges, the trend comes with a troubling side effect. Their national ratings are based partly on the number of students they admit who are in the top 10 percent of their classes. Having only a percentage of students with ranks could affect the college's own standings in published rankings, such as those in U.S. News & World Report.
Some local schools never had class rank, or did away with it long go, along with the time-honored tradition of the No. 1 student taking the graduation stage as the valedictorian.
"It encourages a more egalitarian approach to valuing the education of every student," said MaryJo Yannacone, principal of Strath Haven High School in Wallingford, which has never used rank and allows all students to submit graduation speeches, with the winners selected by class officers.
In its 2015 survey, the National Association of College Admission Counseling reported that colleges' decisions relied more on grades in college prep classes, quality of curriculum, and school GPA than on class rankings.
But it's not just college admissions driving the change. School officials say rank increases an unhealthy competition among highly motivated students who tend to take courses most likely to boost their academic standing.
"It puts students against each other," said Cameron Brown, a senior at West Chester East High School, where she was ranked 40th with a 3.95 GPA, high enough to get into her first college choice, the University of Pittsburgh, to study nursing. "The top four or five are all fighting for that number-one spot."
She said students will avoid classes such as choir for classes that carry a higher weighted value in the ranking system.
Scanlon agreed, which is why the district also is looking at changing weighting for the more difficult Advanced Placement and honors courses.
"I think it will lower the tension and stress," he said, "because a lot of times they're all chasing this number to get the most points to get the highest GPA instead of focusing on what they're learning."
610-313-8232@Kathy_Boccella
SCHOOLS EXPECT TOO MUCH FROM WORKING PARENTS
By Ulrich Boser | Contributor
Nov. 2, 2016, at 4:00 p.m.
While balancing work and family life is never a simple task, it often seems that public schools add to the problem. A few weeks ago, for instance, the school nurse rang me up: My 8-year-old daughter had a headache. Could I come by the school with some Tylenol?
Due to school policy the school nurse couldn't administer one of the most widely used, over-the-counter drugs in the world, meaning I needed to table my work and visit the school to help give my daughter a tablespoon of basic medicine.
The week before that, our school closed its doors for the day for teacher training, throwing a different wrench into my schedule. My wife and I struggled to find child care for our daughters.
For most working parents, the difficult juggling between work schedules and school schedules is typical. School days that end mid-afternoon, frequent closings and strict medical policies make life for many parents a heart-wrenching balancing act. But it may be taking a greater toll than many people realize.
RELATED CONTENT
Invest in adult and family learning programs to give parents the tools they need to support children's learning.
In a new report I wrote with my colleagues at the Center for American Progress, we found that, over the course of a school year, districts close their doors for 29 weekdays on average, which is far more than the number of days most working parents have in paid vacation and holidays. That's the equivalent of six full weeks of school, and these figures do not include summer vacation, early dismissals or unexpected closings due to bad weather.
This misalignment between school schedules and work schedules creates tremendous costs for parents, their children and the economy. In fact, misaligned school schedules could be costing the U.S. economy a staggering $55 billion in lost productivity each year.
The reasons for many school closings are questionable at best. For example, in Lancaster County, Pennsylvania, most schools close on the opening day of deer hunting season, something that clearly has nothing to do with academic outcomes.
Meanwhile, some school policies force parents to jump through seemingly impossible hoops. In Duval County, Florida, for example, parents or guardians are expected to pick up their child from school within 60 minutes of being notified that their child has a headache or fever.
RELATED CONTENT
Policymakers must do more to ensure education laws don't overlook parents.
To a large degree, it often feels like school districts simply assume that one parent is always on call to attend to their child whenever school closes, is delayed or even during a non-emergency like my daughter's headache.
But this doesn't reflect the realities of the modern family. There are more parents working full time than ever, and many of them don't have flexible schedules. In fact, nearly half of all workers – part-time and full-time – report having no flexibility in their work schedules.
While poorly aligned school schedules affect all families, perhaps the greatest burden falls on low-income households. Low-income families often have little control over their work schedules, and they're far more likely to work irregular, on-call, split or rotating shift times. At the same time, these workers are less likely to easily afford the sky-high costs of child care, which exceeds college costs in many areas.
Fortunately, there are ways that schools can help lessen the burden on working parents. A number of schools around the country have extended their school day or year in a cost-effective manner. For instance, many schools are partnering with volunteer organizations – such as AmeriCorps and Citizen Schools – to bring on extra staff at little to no cost to help lengthen the school day. Other schools, such as the high-performing Brooklyn Generation High School in New York City, reduce costs by staggering teacher schedules.
RELATED CONTENT
The case for a new, cabinet-level agency.
Some schools are also rethinking the way in which they connect with parents. For instance, some school districts – like in Mason, Kentucky – are implementing parent-teacher home visits. So instead of scheduling parent-teacher conferences in the middle of the work day, teachers meet with parents in the family's home. Other alternatives to school-based conferences include the use of online platforms such as Skype.
To be fair, designing a school calendar that meets the needs of all working parents is no simple task. Plus, some new programs like aftercare will cost additional funds, and teachers should get paid extra if they work additional hours.
But the benefits of a redesigned school schedule far outweigh the costs. Public schools should stop operating under outdated schedules and instead establish policies that reflect the needs of the modern-day working family. Because families like mine just don't need any more headaches.
What the Best School Districts Do Right
Four lessons for better district-school coherence
November 15, 2016
| Corrected: November 21, 2016
Education reformers in the United States have long debated whether school districts should centralize decisionmaking authority in the district office or decentralize it to let schools take the reins. At the start of the 21st century, new state and federal accountability policies—with their widely publicized results on standardized tests and penalties for schools that failed to meet improvement targets—led central-office administrators to closely manage schools. Now, with the growth of charter schools, the policy pendulum has started to swing back toward decentralization of districts, giving both traditional public schools as well as public charters more autonomy.
The large urban school districts of Chicago, New York City, and Washington now manage both closely regulated traditional schools and minimally regulated charter schools. In other districts, all school leaders have been given greater autonomy. In Denver, for example, the school board granted every school in the district extensive powers of self-determination in 2015, a move that The Denver Post called a "monumental shift." Yet, district officials continue to ask whether they should require schools to comply with their centralized decisions and mandates, or let an individual school control its own fate. Is one approach really better than the other?
—Getty
Overall authority for managing any district rests in its central office, and district leaders bear responsibility for ensuring that every student in every school is well-served. But the essential work of teaching and learning resides in the schools. Moreover, students' interests and needs can vary widely from one school community to the next—what works in one school may not work across town—and those who interact daily with students have a firsthand sense of what needs to improve.
In studying the school management approaches of five large urban districts recognized nationally for their performance, my Harvard University Public Education Leadership Project colleagues—Allen Grossman, Monica C. Higgins, Karen L. Mapp, Geoff Marietta—and I learned that asking whether centralization or decentralization is better is not the right question. Three of the districts we looked at (Aldine, Texas; Montgomery County, Md.; and Long Beach, Calif.) had well-established centralized practices and two (Baltimore and Charlotte-Mecklenburg, N.C.) were in the process of decentralizing the district to grant schools greater autonomy. We found that both approaches can work well, as long as the central office and the district's schools establish a coherent working relationship.
So, what can districts do to promote coherence between the central office and the school? Our interviews with district and school administrators revealed several important lessons:
"The essential work of teaching and learning resides in the schools."
• Principals are central to establishing and maintaining coherence. In each of the five districts we studied, central administrators saw principals as vital agents in their district's efforts to implement strategies for improvement, such as fostering better instruction and encouraging parental support. In turn, most principals thought that district administrators worked to keep the needs and interests of their schools in mind. While principals worked in collaboration with district officials to secure the staff, funding, curriculum, and materials needed for learning to thrive in classrooms; district officials paid attention to concerns and insights about how well policies were being implemented in schools throughout the district. Both groups seemed to realize that the success of their actions was interdependent, and they continued to suggest solutions and modifications that would work for both the school and the district.
• Centralized policies and practices succeed when they are continuously informed by those inside the school. When the districts used a dynamic process of continuous review and advice by all parties of new policies and programs, principals, teachers, and district leaders developed a personal stake in making sure the changes would ultimately be effective. In Montgomery County, for example, teachers were members of the district's textbook selection committee and advised the central office on the subsequent development of curriculum. Central administrators saw the importance of soliciting the practice-based wisdom of those who would implement academic programs and standards districtwide.
In other districts, such as the one in Long Beach, central administrators regularly organized pilot projects of proposed initiatives to gather feedback from educators about their effectiveness before implementation. When schools participated in the refining of policies, principals often became the biggest proponents of each change.
• Coherence in school management requires the knowledge and expertise of leaders at all levels of the system. When Andrés Alonso, the former CEO of Baltimore city schools, took the position in 2007, his district was failing badly. He radically cut the size of the central office, believing that those closest to instruction—teachers, principals, and parents—knew better than central officials what improvements were neede

The district then transferred authority for many important decisions to the schools, including the recruitment and hiring of teachers, the selection of curriculum, and the allocation of funds. As a result, the district's graduation rates and test scores improved; however, principals and teachers still needed guidance as they faced new responsibilities. In response, the district created a network of support for each school, including a team of budgeting, staffing, and academic specialists, and assigned an executive director to coach and evaluate each principal. Increasing school autonomy can be successful when the district provides the transitional support that school leaders may need to make their visions a reality.
• Achieving coherence depends on trust. In each of these districts, building and maintaining trust between district and school leaders was essential. Central-office administrators willingly ceded authority to principals and teachers (or vice versa) when all individuals were confident that they were being treated fairly. Without mutual trust in day-to-day relationships, policies that are intended to spur creative response through decentralization may generate instructional inequities, while those meant to create order through centralization may unintentionally lead to stagnation of growth.
If districts successfully create coherence between the central office and schools, they can increase their capacity to respond to new opportunities and challenges together. Ultimately, coherent systems and practices ensure that every school district can provide students with an excellent and equitable education.